This is a sponsored post written by me on behalf of The Hershey Company for IZEA. All opinions are 100% mine.
During the holidays, my family loves to bake all kinds of wonderful treats. I remember as a child, going over to my Grandmother's and making tons of Christmas cookies. I would also bake cookies with my Mom, and then my sister and I would decorate them. I still to this day, have fond memories of all the different treats that we would make and how much fun it was. I love continuing this tradition with my family. Every Holiday season, we choose a few types of traditional Holiday treats to make, but we also decide to try a new recipe. Well this year, we not only decided to try a new Holiday treat recipe, but we actually chose to make our very own!
One of the cookies we always make this time of year is the Peanut Butter Blossoms, because they are my husband's favorite. When he eats them, the first thing he does is take the chocolate Hershey's Kisses off the top, eat the cookie and save the Hershey's Kiss for last. Well, it so happens that my oldest daughter eats hers the same way… because they both love the chocolate so much. Well, this became my inspiration… come up with a new family Holiday Treat that centers itself around delicious chocolate, and the iconic Hershey's Kisses chocolates.
In order to satisfy my chocolate loving family, I decided to go all out with this recipe by incorporating three different types of Hershey's chocolates. I used Hershey's Kisses Candy Cane Mint candies, Hershey's Kisses Milk Chocolate candies in festive foils and Hershey's Special Dark Chocolate Chips!
I call my treats the…
Miniature Hershey's Kisses Christmas Trees
Ingredients:
Hershey's Kisses

Candy Cane Mint Candies

Hershey's Kisses

Milk Chocolate candies (for melting & dipping)

Hershey's

Special Dark Chocolate Chips
Paraffin

Wax

Miniature Sandwich Creme Cookies (they get covered)

Cute Little Candy Snowflakes (Optional)
Step 1: Unwrap the Hershey's Kisses Candy Cane Mint chocolates and set them aside. Keep a close eye on these… if you have little kid (or husband) helpers like I did, quite a few of these seem to disappear. Next, unwrap the Hershey's Kisses Milk Chocolate candies and put them in a heat resistant glass bowl.
Step 2: Put water in a pot and place the heat resistant glass bowl with the Hershey's Kisses Milk Chocolate candies on top. Add a small amount of paraffin wax to help the chocolate to melt smoothly and not harden a little too quickly. Bring the water to a boil and let the steam heat the bottom of the bowl and melt the chocolate. Be sure to stir frequently with a silicone spatula.
Step 3: Once the chocolate is melted, take a fork and dip your mini-sandwich cookie (one at a time) into the chocolate. Place the chocolate covered cookies onto a baking sheet with wax paper and let them begin to cool. These are the bases for your Christmas Tree treats.
Step 4: Take a chocolate chip and using a butter knife that has been dipped in the hot water, lay it across the chip to flatten and melt the top of it. While the top of the chip is still melted, take it and press it onto the center of the bottom of the Hershey's Kisses Candy Cane Mint chocolates. Hold for a second until the chips and Kisses are fused together.
This piece is your Tree and it's little Hershey's Special Dark Chocolate Chip trunk!
Step 5: Check to make sure your chocolate covered cookies are setting up, but before they completely harden, take the Tree piece and set it onto the base. Then let the pieces cool completely and the chocolate harden. (about 15 min. +/- depending on room temperature)
Step 6- Optional: If you want to add the cute candy snowflakes, dip your butter knife back into the hot water. Take the knife and melt the top of the Hershey's Kisses Candy Cane Mint chocolates and stick the snowflake on before the chocolate hardens.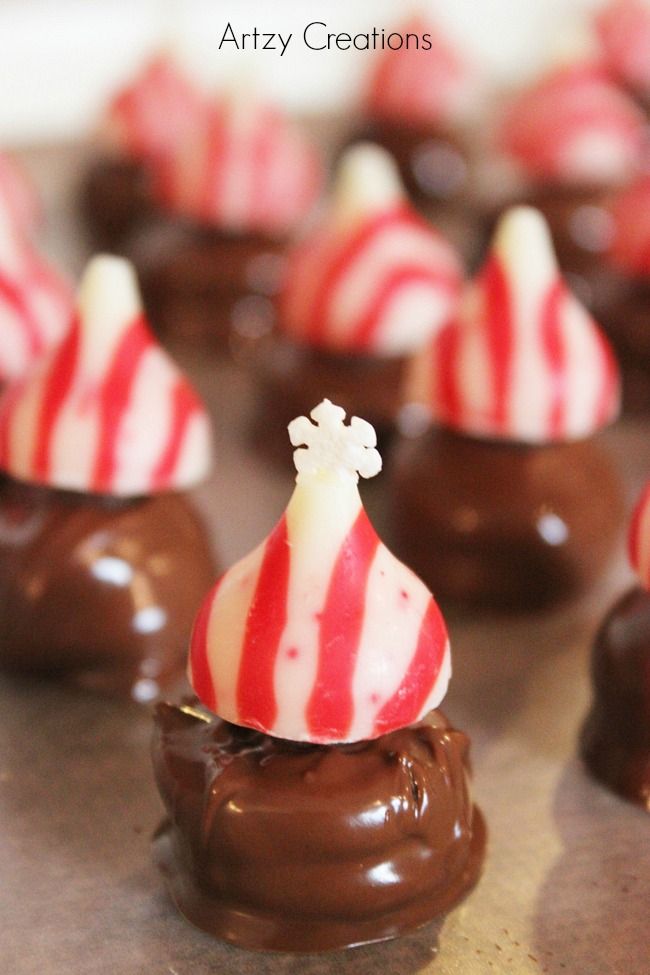 They taste absolutely delicious… the only problem is they are almost too CUTE to eat…
I did say ALMOST!
This Holiday Season, why don't you go ahead and build some lasting memories and start a few #NewTraditions with your family! If you're looking for some more great recipes or creative dessert ideas, I highly recommend you visit The Hershey Company website. There you'll find SWEET ideas for absolutely any occasion 🙂