This is a Sponsored post written by me on behalf of Duck Brand provided by ShurTech Brands, LLC. All opinions are 100% mine.
As an art teacher, I have always been intrigued and inspired by The Day of the Dead traditional folk art.  When the opportunity arose to partner with Duck Tape®, I knew exactly what I was going to do.  I was so excited when given the chance to partner with Duck Tape® to design an original one of a kind Duck Tape® pumpkin to promote their Stick or Treat Contest and use my Day of the Dead pumpkin idea.  The Stick or Treat Contest is a great chance to for you to showcase your talents and great ideas that may be brewing.  By entering, you could win $1,000 and a Cricut Mini Personal Electronic Cutter plus additional prizes.  All you have to do is grab your pumpkin (which could be fake or real) and your Duck Tape and have some Halloween fun.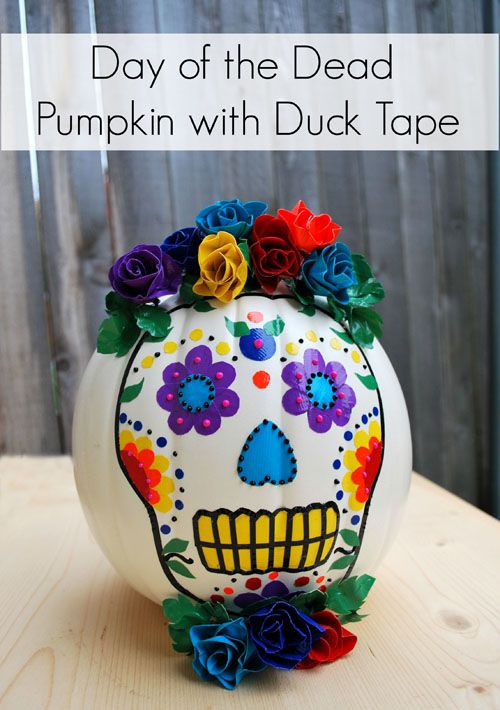 Here's how I designed my Duck Tape® Pumpkin…
Here's what you need:
·        Various colored rolls of Duck Tape
·        A Pumpkin (I used a white carveable foam pumpkin)
·         Sharpie Marker or Pencil
·         X-acto Knife
·         Metal Straight Edge Ruler
·         Cutting Matt
·         Floral Wire (For the Flowers and The Leaves)
·         Nail
·         Wire Cutters
·         Dimensional Fabric Paint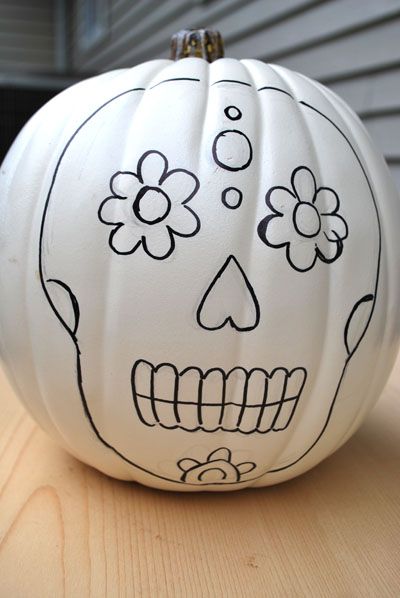 Step 1:
Start by taking a pencil and sketching the shape of the skull and other details onto the pumpkin.  Next, retrace over it with your Sharpie marker.  This step is optional but I did it so it was easier to see for the tutorial and it also helped me to know where to apply the tape.
Step 2:
Cut the Duck Tape into long thin strips and outline the skull. I cut mine to 1/8" width. Cut the additional shapes out of Duck Tape® using the X-acto knife.  Cut out the solid shapes for the teeth, nose, etc.  I made a template of each onto thick paper and cut around it onto the Duck Tape®.  After I placed the teeth onto the pumpkin, I outlined them in black. Cut out various different tape shapes and sizes to create the flowers or hearts or whatever you decide you want to decorate your pumpkin with.
Step 3:
Make a bunch of Duck Tape® roses and make some leaves.  The key to these is putting in the floral wire.  If you don't already know how to make the roses, there's plenty of great tutorials on how to make them on Youtube.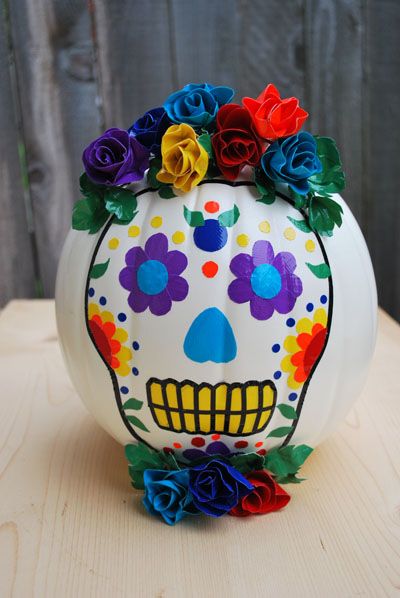 Step 4:  Poke holes into the pumpkin using a nail.  Insert the flower stem into the hole and wiggle the flower down into the surface of the pumpkin.  Wrap the leaves around the flowers to fill in the holes between the flowers.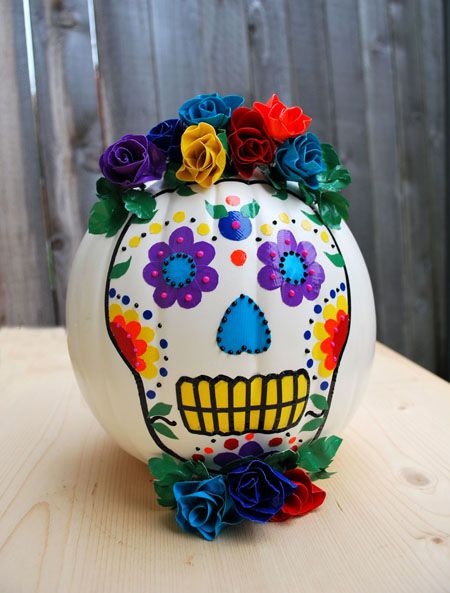 Step 5:  For the last step, I took Dimensional Fabric Paint and added additional smaller dots around the eyes and the nose for a little extra detail.
It's really that simple!  Now, here is your chance to show how creative YOU can be with Duck Tape®.  The best part is you could win money and prizes!  Go to the Duck Tape® website and enter for your chance to win!  Here is what you can win:
1st Place:  $1,000 and Cricut Mini Personal Electronic Cutter
2nd Place: $500
3rd Place: $300
Entries are accepted till October 31st and the winners will be announced November 11th.
With all of the exciting Halloween Duck Tape® designs and the numerous solid colors available, I would love to see your pumpkin designed and decorated with Duck Tape®.  You could leave me a comment and a link after submitting your entry.  Also, you can follow Duck Tape® on Twitter @TheDuckBrand for the latest on crafting and decorating with Duck Tape.