This is a Sponsored post written by me on behalf of FrogTape Brand Painter's Tape for SocialSpark. All opinions are 100% mine.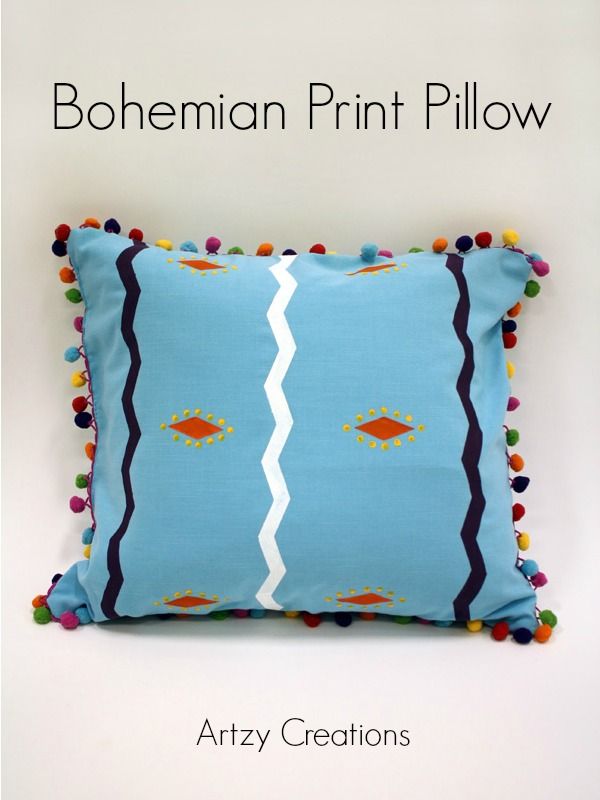 Being an artist, I love color and all things eclectic.  The more colorful things are the better.  Except when it comes to my home. Then I usually tend to shy away from all of the brightly colored objects that I love and I just end up admiring them from afar.  Not so this time.  I have been dying to replace our living room pillows for a while now.  I decided that I was going to take the plunge and go with brightly colored fabrics that had a great print.  However, I couldn't really find the exact look I wanted.  So, I decided that I was going to create the look I wanted using FrogTape®.  FrogTape® now comes in these different precut repeating patterns that they call Shape Tape™. Shape Tape™ is treated with their patented PaintBlock® Technology. It's "a super absorbent polymer that reacts with the water in latex paints and instantly gels to form a micro-barrier that seals the edges of the tape, which helps prevent paint bleed." That may be a mouthful, but it helps make the Shape Tape™ perfect for designing your own personal look on fabric.  You too can design and create your own personal look simply by using this great product. It's this simple.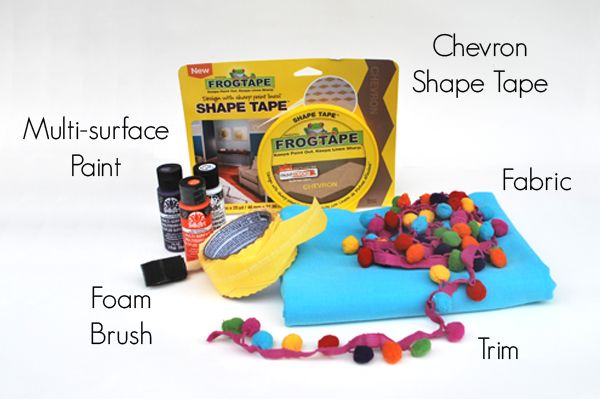 Here's What You Need:
Fabric Color of Choice
FrogTape®  / Shape Tape™ (I used Chevrons)
Multi-Surface Paint
Foam Brush
Craft or Butcher Paper to Cover Your Work Surface
Coordinating Thread
Accent Trim ( I chose this super cute Pom Pom one)
Note: Begin by covering you work surface with paper or something to protect it. Depending on your fabric, the paint may bleed through.
Cut your fabric to the desired size. Since I was making a double sided pillow and I wanted the sides to be similar, I cut (1) long piece that I painted, and then trimmed it to the final dimensions for the pillow afterwards.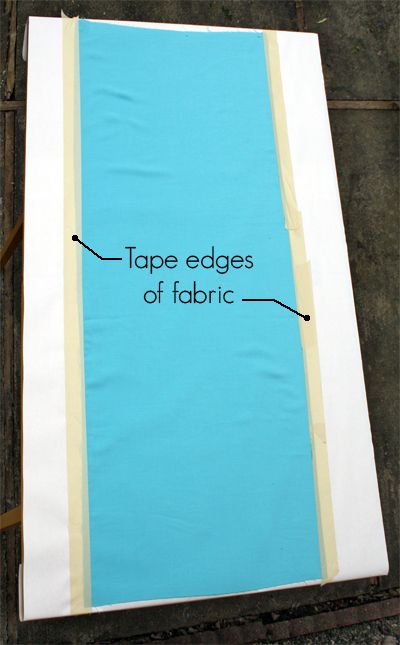 Step 1:  Tape the fabric to your work surface using masking tape. This really helps hold your fabric in place.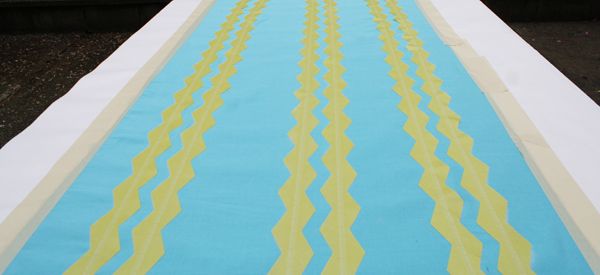 Step 2:  Create your pattern by placing the Shape Tape™ in place after peeling the underside off. Be sure to press it firmly down onto the fabric. Because you're taping directly onto the fabric, you can make your Chevrons as wide or narrow as you want.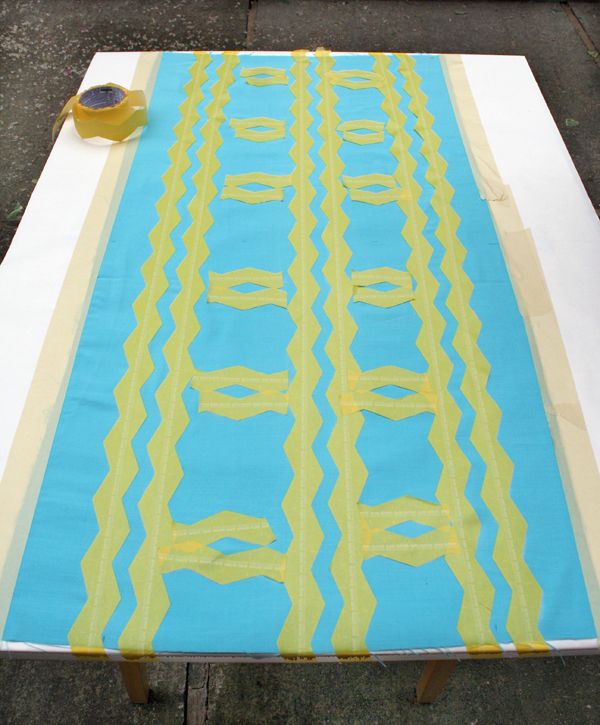 Step 3:  Continue to finish your design however you want using the Shape Tape™. I also cut pieces of the tape and used those pieces of Chevrons to make perfect diamonds.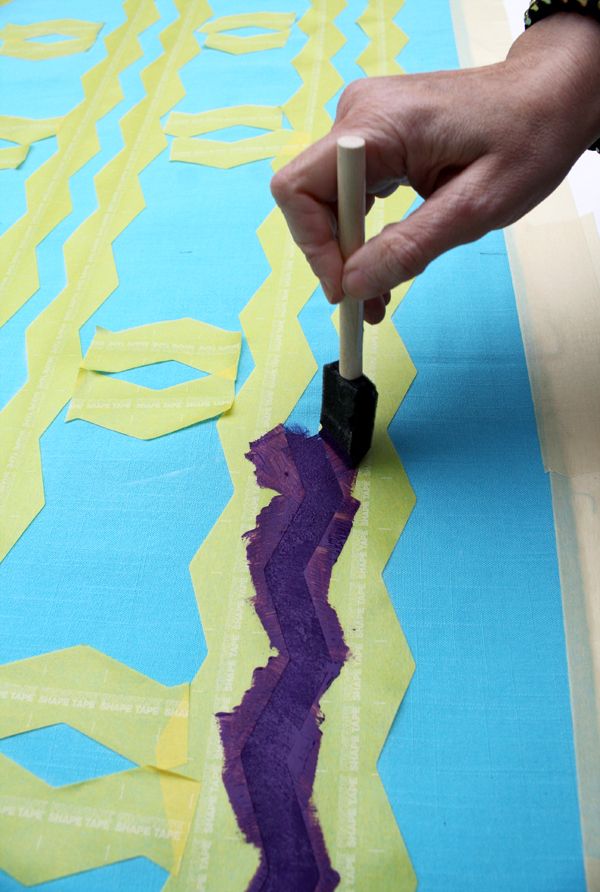 Step 4:  Apply the paint in the negative space between the marked off areas of the Shape Tape™.  Brush towards the center of the space you are painting and away from the tape. Even though the tape has the "PaintBlock® Technology" it's best to play it safe.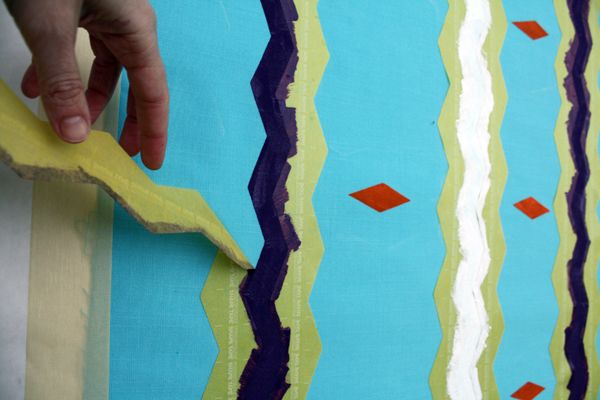 Step 5:  Let the paint dry slightly, but not completely.Then, slowly peel the tape away from your designs.
Step 6:  Go back and add a little extra detail to your design. You could freehand this or use a stamp. I used the eraser on the end of a pencil to make my little accent dots.
Step 7:  Let the paint on the fabric dry completely. That's it! You now have your own personalized fabric. Now it's time to get sewing.
Step 8:  Sew your pillow or whatever it is you've decided to use your new fabric on.
As you can see, the precut Shape Tape™  makes quick work of these intricate geometric shapes. It really couldn't get much easier.
If you want to learn more about FrogTape®, see more tutorials, or get other super cool project ideas you can head over to FrogTape how-to and dive right in.
You can also follow FrogTape® on  Twitter ,  Facebook or Pinterest
Looking for a little more in depth description or if you're like me, (a visual learner)  you can check out the DIY video I made below..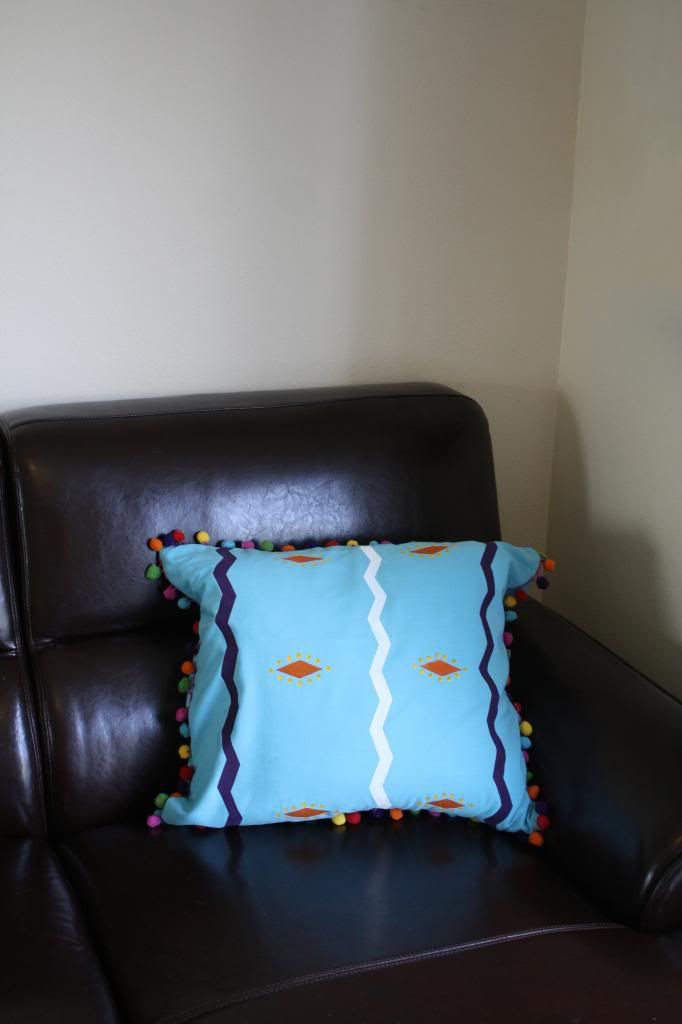 I just love my new splash of color.